Biography
Tuesday String Band is a bluegrass trio of young music professionals who met through the music program at Western Oregon University. They love entertaining crowds with fast pickin', humorous onstage banter, and string band versions of music from a wide variety of styles. These boys have performed in numerous Oregon cities and are all working on building careers in music performance and music education. They're on a special mission to keep the great string band tradition alive and relevant to the younger generations right here in the beautiful Willamette Valley.
Latest News
Well folks, we've officially changed our name...
Tuesday Jug Band is now Tuesday String Band!
As much as we found the name charming and loved making jokes about it at our shows, we're not technically a Jug Band. Jug Bands have a rich history of employing an actual jug player, and using a mix of conventional and homemade instruments like the washtub bass, washboard, spoons, bones, and more. We just stick to strings, so this name seems like a better fit.
Shows, shows shows!
We've been having a blast playing all the local venues in the Monmouth/Independence area.  We've now played Brew Coffee and Taphouse, Mangiare, Sing Fay, The Barn at Hickory Station in Albany and Coast Fork Brewing down in Cottage Grove. And of course we can't forget the very special event we played - the ribbon cutting for the Monmouth/Independence Trolley - that got us a spot in the Polk County Itemizer-Observer!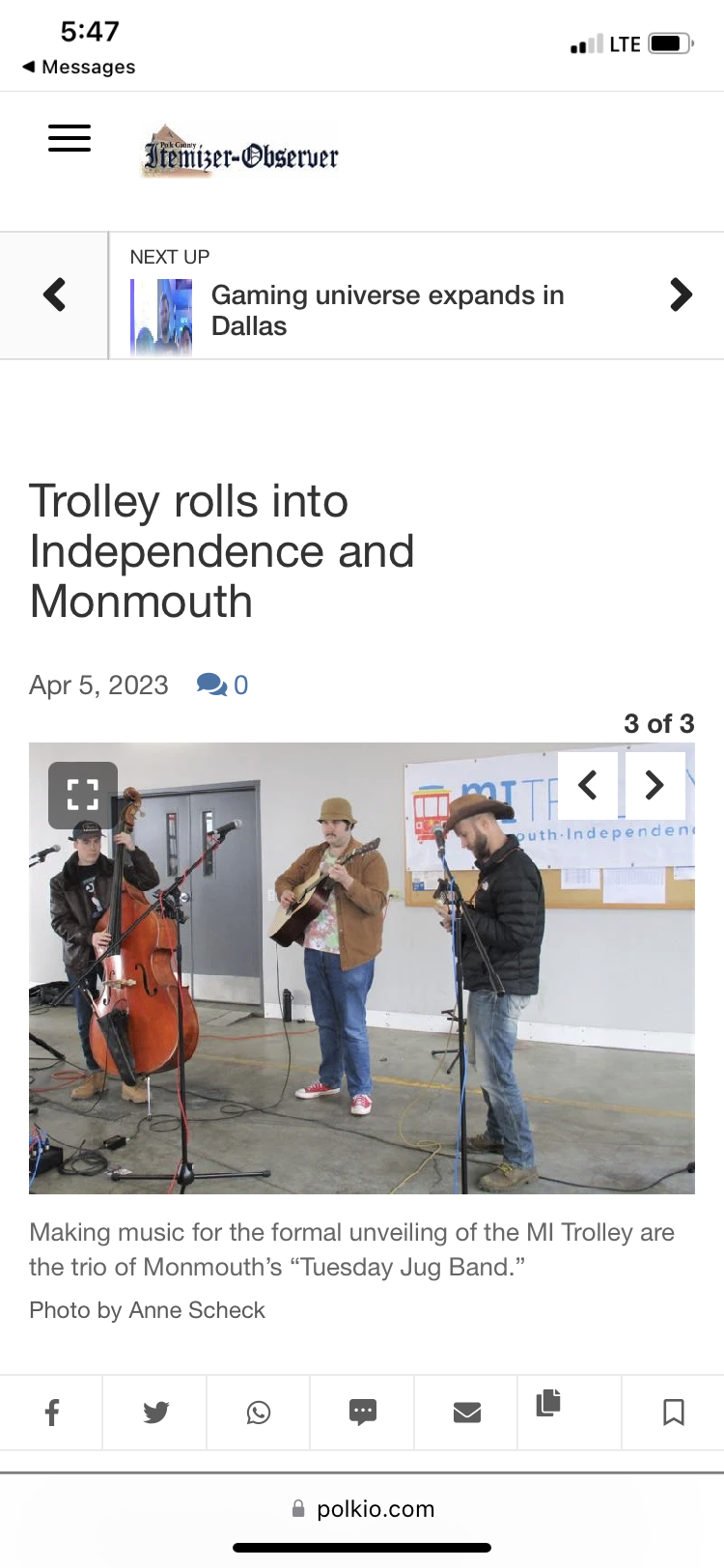 Latest Tracks
The boys of TJB just laid down three tracks in the Western Oregon University audio recording lab - a very well equipped studio! A special thanks go out to Connor Johnson and Seth Duggan for recording the group and capturing that live bluegrass sound and feel. 
0:00/2:00

0:00/2:41

0:00/3:07